Featured Products

In 2020, you helped us donate 1422 servings of ramen to City Harvest and New Yorkers for Children! 
Your purchase during our 2020 Gift from Santa Claus campaign made these donations possible. We wholeheartedly thank you for your generous support.
ICHIRAN will continue to give back to our community and make our neighbors smile with our ramen. 
Press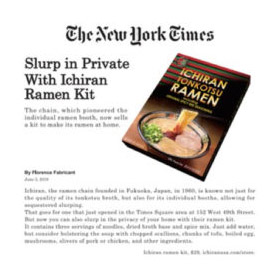 "ICHIRAN, the ramen chain founded in Fukuoka, Japan, in 1960, is known not just for the quality of its tonkotsu broth, but also for its individual booths, allowing for sequestered slurping. That goes for one that just opened in the Times Square area at 152 West 49th Street. But now you can also slurp in the privacy of your home with their ramen kit. It contains three servings of noodles, dried broth base, and spice mix. Just add water, but consider bolstering the soup with chopped scallions, chunks of tofu, boiled egg, mushrooms, slivers of pork or chicken, and other ingredients." —By Florence Fabricant
More: