It takes just 3 minutes to escape into ramen heaven.
And you don't even need to put on pants.
All you need is 3 minutes, a pot, and some water to recreate ICHIRAN's mouthwatering flavors right at home.
Unwilling to compromise on quality, it took years before ICHIRAN's top craftsmen finally found the perfect combination of flavor and shelf stable ingredients to make the Take-Home Ramen Kit.
This kit has all the essential ingredients you need to easily make your own flavor-packed ramen:
Tonkotsu Soup Concentrate: a liquid concentrate that makes an authentic pork bone broth loaded with umami flavors when mixed with water
Hakata-Style Noodles: dried, straight noodles with a firm, yet smooth texture
Original Spicy Seasoning: recreate the ICHIRAN experience with a pinch of togarashi peppers
Each kit includes 3 servings so you can indulge your taste buds over and over again.
Product Information
Servings
3 per kit
Includes

Soup Concentrate 1.9 oz / 53 g (3 packs)
Hakata Noodles 2.6 oz / 75 g (3 packs)
Original Spicy Red Seasoning 0.4 oz / 1 g (3 packs)

Allergy
Information

Soup Concentrate: Wheat, pork, soy
Noodles (Dried) : Wheat
Original Spicy Red Seasoning : None
Manfactured in a facility that also processes peanuts and tree nuts

Expiration Date
*Images are for reference only.
Hakata Thin Straight Noodles
Our experienced noodle craftsmen use a special blend of rare flours to create a noodle that has excellent body and smoothness.
Thanks to this special blend, the water used to boil the noodles is free of excessive starch, allowing you to better enjoy the flavor of the tonkotsu soup.
Soup Concentrate
This is the tonkotsu (pork bone) soup that ICHIRAN's experts have spent years developing.
The broth made from our refined soup concentrate is both creamy and savory. The broth fully captures the umami flavors of the natural tonkotsu soup served in ICHIRAN restaurants worldwide.
Original Spicy Red Seasoning
ICHIRAN's own unique seasoning is made from a wide variety of togarashi red peppers, each carefully selected for its flavor and quality.
This seasoning blend was created after testing several different pepper blends for the perfect balance of spice and flavor that complements the ramen.
---
Press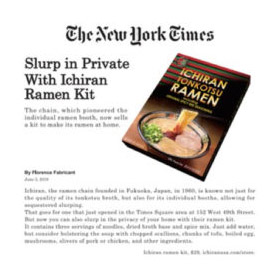 The New York Times Wrote :
"ICHIRAN, the ramen chain founded in Fukuoka, Japan, in 1960, is known not just for the quality of its tonkotsu broth, but also for its individual booths, allowing for sequestered slurping. That goes for one that just opened in the Times Square area at 152 West 49th Street. But now you can also slurp in the privacy of your home with their ramen kit. It contains three servings of noodles, dried broth base, and spice mix. Just add water, but consider bolstering the soup with chopped scallions, chunks of tofu, boiled egg, mushrooms, slivers of pork or chicken, and other ingredients." —By Florence Fabricant
More:
---
Reviews
Very good ramen

I went to Ichiran ramen quite often during my last trip to Tokyo. I loved it so much that it is now my gold standard. I was so happy to see they sell this online in the US. Ever since Covid-19, I've ordered 12 take home kits. My family loves them! I add green onions, some garlic, whatever meat I have on hand (shabu shabu cuts are great for this) and egg (the ones that are peeled and ready from grocery stores work if in a hurry). It is a little expensive, but so worth it.

Delicious!

This is the next best thing to going to Ichiran! Every bite/sip is heavenly! Yummm!

ramen kit

When I first ordered it took 3weeks to deliver, and on my 2nd order it was faster and it took 4days after I place an order. Best flavor, its like Im in ICHIRAN with the most delicious broth and firm noodles. Will def buy again!

Amazing product!

Wow we're totally impressed with the flavor of this Ramen!!! This is not like your instant noodle/ramen, the soup base is legitimately delicious and noodles are excellent as well. Highly recommend!! Worth the price for sure!

Took me back to Japan

I had Ichiran Ramen while staying in Ikebukuro on vacation in Tokyo and it was one of the best bowls of ramen I had ever had. The ramen from this kit was very similar, the flavors took me back to that great trip. I wish that the red seasoning were in a paste form like you see in the picture & what is served in the restaurant; but the powder form they provide gives the same great flavor and kick. I bought a couple of boxes and I'm looking forward to having this again.

Great Taste

Obviously not as good as the original but very close, just far too expensive to get delivered again especially with the cost of shipping going up
---
Instagram
#ichiran #ichiranramen
been waited long to be restocked. taste great and clean! hope it has the option to add pork chashu and other garnish. s

My wife and I have been sampling various ramens, both dried and fresh, from a number of companies (Japan, US, UK). This was the first of the dried we had tried and it was wonderful! The original red seasoning was fabulous! Admittedly, we lived in New Mexico and red chile is part of our regular diet, but this seasoning did not disappoint. We prepared the meal with pork picada (a local cut), green onions, water chestnuts, mushrooms and bean sprouts. Delicious!

I haven't had Ichiran in person since the pandemic started and I really missed it. I decided to order one of their ramen kits was surprised how well made it is.

I will be honest..I was expecting it to be ok but I was surprised. It was better then good. The soup base wasn't salty. The noodles was delicious. Best made ramen! We only wished we bought more.

This is by far the best instant ramen I have ever had. Very close to eating at the restaurant ( in Japan). Puts many local restaurants to shame. Thank you Ichiran.

We love this ramen soup. We loved it in the restaurant but being that the restaurant is not close we order it online which is so convenient and great. it is just as delicious as the restaurant. Definitely easy to make and we make to our liking. A must try.

Best tasting ramen, like Ichiran at the Tokyo shop!

I was a bit skeptical in buying a "take-home" ramen kit, but I decided to buy a 3-pack. I wish I had bought more! The broth is very rich, flavorful, and tastes like the real Ichiran at Tokyo Shibuya store. The noodles has the same texture and flavor at Tokyo Shibuya! I really enjoyed :)

Best ready to eat ramen kit EVER

Easiest thing to prepare but the soup base is just so delicious, rich and flavorful. The noodles are perfectly firm and the spice does the right amount of heat!

The best at home ramen I've ever had! My fiancée and I recently went to NYC and fell in love with it. Went back home and remembered the staff member said it will ship anywhere! Best ramen ever